Lot of Portugal's dishes are based with fish. Fish is served boiled, grilled, fried or roasted. The most consumed is the salted cod dish called bacalhau. It's said that there are more than 365 ways to cook cod, one for every day of the year.
Each area has their own speciality with bacalhau. My family lives near Porto and cooks bacalhau a Gomes de Sa.
This recipe use simple ingredients and the result is delicious!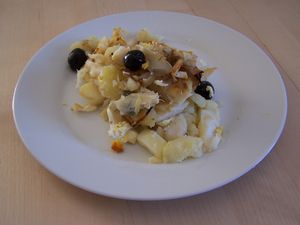 Ingredients:
1lb salted cod fish
5 tbsp olive oil
1/4 tsp sugar
2 yellow onions sliced
2 cloves garlic minced
4 eggs hard boiled, sliced
12 black olived
2lb potatoes peeled
salt and pepper to taste
Directions:
Soak fish in cold water for 24 hours, changing the water two times, drain.
Put fish in a pan and cover with water. Bring to a boil, reduce heat and cook for 15 minutes. Then remove skin and bones. Flack into large pieces.
Meanwhile, cooked potatoes in salted water until tender. Drain and slice.
In a saute pan, cooked onions with a tbsp olive oil, sugar, salt and pepper for 20 minutes. Add garlic 10 minutes before the end.
Preheat over to 350°F. Grease a oven pan with1 tbsp of olive oil. Then lay half potatoes, half fish, half onions, half eggs and 6 olives. Repeat and sprinkle with 3 tbsp of olive oil. Bake for 40 minutes.