I love risotto. It's really easy to make. You just need some time, a zest of originality and a little bit of concentration.
I chose butternut and apple which work perfectly with cinnamon, nutmeg and cloves. We had a really good lunch...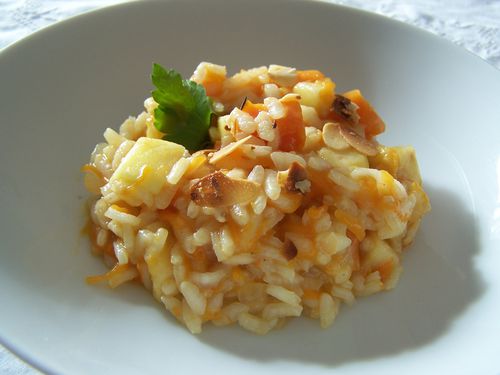 Ingredients for 4:
1 quarts chicken stock
2 tablespoon olive oil
1/2 onion minced
1 cup Carnaroli rice
1/4 cup white wine
3/4 cup butternut squash peeled and cubes
1/4 teaspoon cinnamon
1/4 teaspoon nutmeg
1/8 teaspoon clove ground
1/2 apple peeled and cubes
1/4 cup Parmesan cheese
1/2 tablespoon butter
Salt and pepper to taste
Directions :
In a small pan, bring the stock to a simmer over medium heat and keep it at a low simmer.
In a large pan, sauté onion in olive oil 5 minutes. Add rice and cook until it look translucent, stirring constantly.
Stir in wine. When rice had absorbed it, add butternut, cinnamon, nutmeg and clove. Add 1 cup of stock and stir until the liquid is almost absorbed. Continue cooking, stirring and adding broth (1/4 cup each time) as the rice absorbs it. The rice must be tender. Add salt and pepper if needed.
Stir in apple and cook 1 minute more. Then add Parmesan and butter and mix well with a wooden spoon.