This cake is one of my favorite. I made it yesterday for the daycare's party. I missed my friend to decorate the cake with me...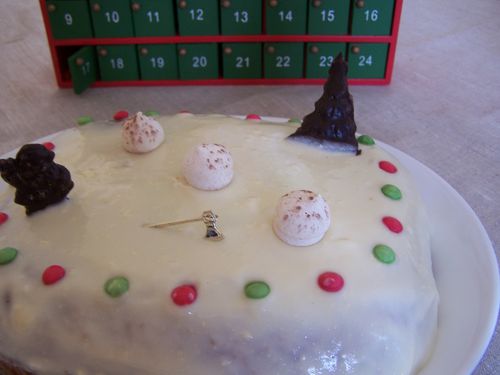 Ingredients :
21/2 cups flour
11/4 teaspoons baking powder
1 teaspoon baking soda
11/4 teaspoon cinnamon
1/2 teaspoon nutmeg
1/8 teaspoon cloves
1/2 teaspoon salt
4 eggs
2 cups granulated sugar
11/2 cups vegetable oil
1 pound carrots peeled and grated
Frosting : 8oz cream cheese
5 tablespoons unsalted butter
1 tablespoon sour cream
1/2 teaspoon vanilla extract
11/4 cups confectionner's sugar
Directions :
Preheat oven to 350°F. Grease a 9 by 13 inch cake pan.
In a bowl, mix flour, baking powder, baking soda, spices and salt. In another bowl, mix well eggs and sugar and then add slowly the oil. Add flour mixture and mix. Stir in carrots.
Pour into the cake pan and bake for 35 minutes. Let cool 2 hours.
Make the frosting : process the cream cheese, butter, sour cream until combined. Then add sugar and mix until smooth. If you don't use now, keep it in the fridge.