Yesterday, I went to the fresh market in Montarnaud. I like to go there. It's really little, you could find vegetables, meats and clothes : 3 stand that's it. Sometimes a fisherman comes to sell his fishing. Really good.
Anyway, I took a look on veggies and I saw a beautiful califlower. I didn't resist and I bought it. But at home, my question was : how could I cook it? Because in my house some doesn't like cheese, milk, cream and some love it (like me...). Ok I shared the califlower in two. One part cooked "à l'anglaise" (boil 10 minutes in salt water) and the other part in "gratin".
I share with you the gratin's recipe but I don't have any leftover to give you...perhaps a few à l'anglaise!!!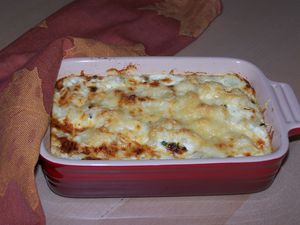 Ingredients :
1 califlower cut in medium florets
2 yolk eggs
2 eggs
1 cup milk
1 cup cream
1 cup swiss cheese
1/4 tsp nutmeg
1 tsp olive oil
salt and pepper to taste
Directions :
Cook the cauliflower florets in a large pan of boiling salted water for 8 minutes, until tender but still firm.
Meanwhile, in a bowl mix all eggs milk, cream and nutmeg.
Grease a baking pan with olive oil, add cauliflower and pour the mixture eggs/milk/cream. Sprinkle with cheese and bake at 370°F for 30 minutes. Let's cool 5 minutes.