I was organizing my shelves (again : I don't know how to put my staff...too much things!)and I took a look on my cooking book I bought in USA.
One on my favorite is Everyday Italian by Giada de Laurentiis. I loved watching her show in Foodnetwork. She's so happy and friendly and her recipes are good. I like also her plate's presentation.
It's really importante for me to serve something good and also something nice to see.
Chicken Saltimbocca is easy to make and the result is wonderful to taste and to see!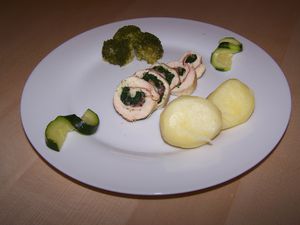 Ingredients :
10 oz ( 280g) frozen chopped spinach, thawed
3 Tbsp (45 ml) olive oil
6 chicken cutlets flatten
6 fine slice Prociutto
1/4 cup (60 ml) parmeson (I didn't use)
14 oz (420 ml) chicken broth low-salt
3 tbsp (45 ml) lemon juice
Salt and pepper to taste
Directions:
Remove excess water to the spinach. In a bowl mix spinach salt, pepper and 1 tbsp olive oil.
Sprinkle each cutlet with salt and pepper. Lay the prociutto and a thin layer of spinach. Sprinkle with the parmesan and roll up the cutlet. Secure with a toothpick.
In a large pan, heat 2 tbsp olive oil. Cook the chicken cutlets 2 minutes each side.
Add the chicken broth and lemon juice and mix liquid with a wooden spoon. Boil and reduce the heat to medium.
Cover and cook for 10 minutes. Transfer the chicken to a plate and reduce the liquid over high heat 5 minutes. Add salt and pepper to taste and serve.