Cupcake is really popular now. This little cuty cake enjoy everyone, children and adult. You could find them at a birthday party, at a wedding even at Christmas!
I read that the word Cupcake come from the way to bake the cake in little individual pans and the way to measure ingredients with cup.
Usually cupcake's recipe is really easy to make and you could use yours skills to decorate this cake.
Yesterday, mine wore Christmas colors!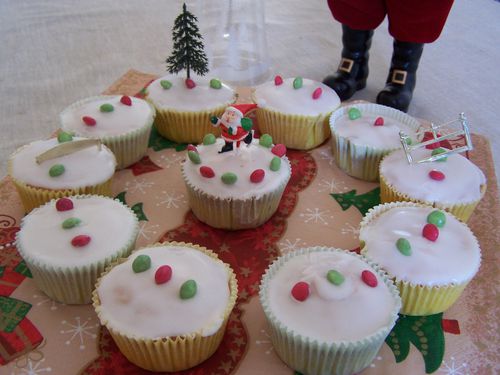 Ingredients for 12 cupcakes:
4 eggs yolks
4 eggs whites
3/4 cup sugar granulated
1 teaspoon vanilla extract
3/4 cup flour
5 tablespoons butter unsalted
1/2 teaspoon salt
Frosting:11/2 cup confectionner's sugar
1 white eggs
Directions :
Preheat oven to 350°F. Line muffin pan with paper liners.
In a bowl, mix eggs yolks, sugar and vanilla. Add flour and butter and mix until well combined.
With an electric mixer, whip the whites at high speed until medium stiff peaks form and fold them carefully into the egg yolk/flour batter.
Divide batter evenly among lined cups, filling each 3/4 full. Bake for 18 minutes and let cool completely.
Make the frosting : combine egg and sugar, stirring until sugar has dissolved.
Use a spatula to spread cupcakes with frosting and now use your artist's skills to decorate!