This is my first cinnamon buns and I'm really happy for the result. I scared to cook cinnamon buns but in the end it's really fun to make. And I received my family jury's congratulations : trust me it's hard to have this "price".
This buns are sweet and flavorful. I took two pieces and I share one with my son...
I think I'll make some for Christmas' goodies.
Enjoy!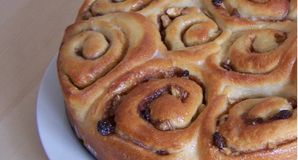 Ingredients:
400g flour
7g salt
43g sugar
8g instant yeast
240g warm milk
55g melted butter
Topping :
21g ground cinnamon
85g sugar
30g melted butter
85g raisin
75g chopped walnuts
Glaze :
340g confectionner's sugar
1tsp vanilla extract
130g milk
Directions:
First day
In the mixer bowl, mix milk and yeast until dissolved,then add flour, sugar, salt. Mix in lower speed 1 minute and 7 minutes in medium (add more flour or milk if necessary).
Tranfer the dough to a floured work surface, knead 1 minute and form a ball. Place the dough in a oiled bowl, cover with plastic wrap and refrigerate overnight.
Second day
Remove the dough and let rise at room temperature 3 hours before to work with.
In a bowl, mix sugar and cinnamon.
On a floured work surface, roll the dough into a large rectangle (12 by 15). Brush the surface with melted butter and sprinkle with cinnamon sugar (leave 1/4 inch border) and then add raisins and walnuts.
Roll up the dought by rolling the large bottom to the large top.
Cut into 1 inch thick slices and put in a round cake pan lined with parchment paper. Place the roll 1 1/2 inches apart. Cover and let rise for 2 hours.
Preheat the oven to 350°F. Bake for 10 minutes, rotate the pan and bake for 10 minutes more (buns must be golden brown).
Meanwhile, in a bowl confectionner's sugar with vanilla and milk. Make sure it's not too liquid.
Let cool buns 10 minutes and pour the glaze.