It's incredible that little things could make us so happy! Little thing like TV...finally we bought a huge TV on Friday (after almost 3 months). Alexia was so happy, she spent most of the weekend wahtching TV.
And this morning, I began to watch some shows with my son and when I watched the clock it was almost 11 am.
I promised to buy a cordon bleu for lunch...oups! I took a look on my fridge, I found ham, chicken and cheese. I made them quickly and we enjoyed the meal!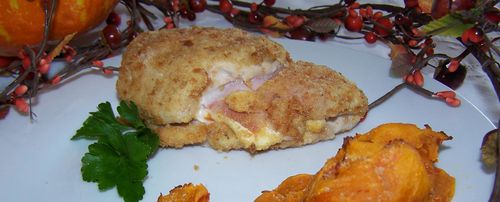 Ingredients :
2 chicken cutlets fines
1 sliced ham cut in half
2 sliced cheese
1/2 cup flour in a plate
1 egg beaten in a plate
1 cup bread crumbs in a plate
1 tablespoon butter
Salt and pepper to taste
Directions :
Preheat over to 350°F.
Sprinkle each cutlet with salt and pepper. Place a piece of ham and a piece of cheese in center of the chicken. Fold the egdes of the cutlet over the ham and the cheese using a toothpick to secure if necessary.Lightly dust the chicken with flour, then dip in the egg and coat in the bread crumbs.
Heat butter in a heavy skillet, fry each Cordon bleu 2 minutes each side. Transfer to a baking pan and cook for 15 minutes.