Enlightened Eggplant Parmesan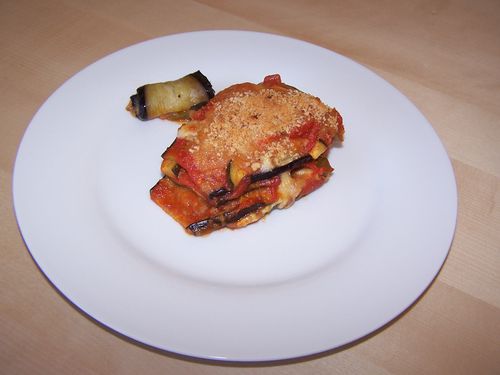 One thing I miss a lot too in USA, it's the restaurant GIGI in Rhinebeck. I went several times with my family and my friends. Lot of beautiful souvenirs.
I neved was disappointed in this place. Food is delicious and waiters are friendly. We never waited a lot. If you could go to this restaurant try the Skizza!
Anyway, I have the chef's book (Hudson Valley Mediterranean by Laura Pensiero) at home, and for lunch I made the "Enlightened Eggplant Parmesan"...Delicious. No leftover!
This is the recipe :
Ingredients :
1 1/4 cups fresh bread crumb
4 medium eggplant, cut lenthwise into 1/2 thick slice and grease each side with olive oil
1/4 cup olive oil
2 cup homemade tomato sauce
1 1/4 cups shredded mozzarella cheese
11/4 cups parmesan cheese
Directions
Preheat the broiler. In two baking sheet, lay eggplant slices and broil until they brown and tender : 5 minutes each side. Let's cool.
Meanwhile, in a bowl combine bread crumbs and parmesan.
Preheat the oven at 350°F(180°C).
Oil a baking pan, spoon 1/2 cup of the tomato sauce, third of eggplants slices, 1/2 cup of tomato sauce, 1/2 cup of mozarell and 1/2 cup crumb/parmesan. Do this another time. Cover the dish with aluminum foil and bake for 30 minutes. Uncover sprinkle with the bread-crumb mixture and bake for 10 minutes more. Wait 10 minutes to serve.