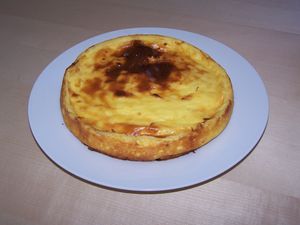 I went this morning to buy my French Baguette. The baker in Mortarnaud is really good. The bread is crunchy outside and chewy inside. We eat one everyday and more sometime.
Today, when I waited I took a look on the pastry and I saw a Flan Parisien big creamy. I decided to cook one for the "Gouter" (afternoon snack).
Now I'm waiting for the flan is enough cool to test a little piece. It's smell so good...
Flan Parisien is one of my favorite dessert. It remembers me my childhood. My mother used to make at home. There are some smells and some tastes we couldn't forget.
This is the recipe I tried today come from Christophe Michalak's pastry book.. I like this one because it's really easy and the result is so yummy.
Ingredients :
500 ml (2 cups) milk
125g (1/2 cup) heavy cream
5 yolks eggs
125g (2/3 cup) sugar granulated
50g (1/3 cup) cornstach
Directions :
In a pan, boil milk and cream together. Meanwhile, whisk yolks eggs, sugars and cornstach in a bowl. Pour the mixture in the pan with the milk and the cream. Boil for 30 secondes more. Remove the pan from the heat and let completly cool.
Preheat oven to 350°F (180°C). Grease a springform pan 7"D.
Whisk well the custard and pour in the springform pan. Bake for 35 minutes until the top is nicely brown.
Let me know !