My mother is Portuguese. I've still my Grandparents who live in Portugal. We love to take our vacation there because of the family and the beach but you know me because of the delicious food!
Portuguese cuisine is very rich and testy. It's a Mediterranean cuisine with olive oil, spices, garlic , herbs, tomatoes, fish, poultry...and lot of pastries!
I'll test with you some recipes and we'll travel a little bit together in this beautiful country.
Today I made My grandmother's cake. She used to make this cake each time we visited them. I lost my recipe and my sister helped me.
Alexia like to eat it with a piece of chocolate!
Ingredients: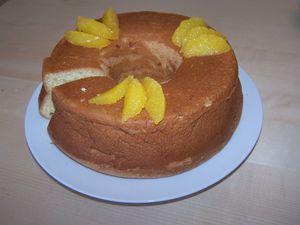 7 eggs yolks
7 eggs whites
100g (2/3 cup) flour
50g (1/3 cup) cornstach
200g (1 cup) sugar granulated
1 tsp baking soda
1/4 tsp salt
1 orange's zest
Direction :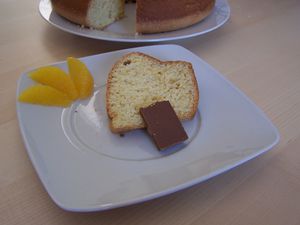 Preheat the oven to 350°F(180°C).
Grease a chiffon pan with butter and some flour.
In a bowl, mix eggs yolks and sugar. Whisk well until it's begin white and then add flour, cornstach, baking soda, zest and salt. Whisk well.
Using an electric mixer, beat eggs whites until peaks form. Gently fold a third of the egg-white mixture into the eggs yolks-flour mixture until combined. Gently fold in remaining whites.
Spread batter in the chiffon pan and bake for 30 to 35 minutes. Test the center for doneness : the knife should be dry.