I cook with my Pressure Cooker : Carrots and Turnips with Cumin
I enjoy spending time in my kitchen. I could stay all afternoon to test new recipes, to make goodies...
But sometimes, I don't have much time for cooking : A child is sick or I have to go to the grocery store or I just want to lay on my sofa and read.
In my kitchen, I have a good friend who help me a lot when my cooking time is short : my Pressure cooker. "For a healthy cooking, quick and tasty every day". Thanks Seb!
With her, I could prepare tasty soup, steamed veggies, fish, meat quickly and without too much attention.
Today, I made carrots and turnips with cumin in 10 minutes. The rest of the time, I spent taking care of my little boy who has a nasty stomach virus.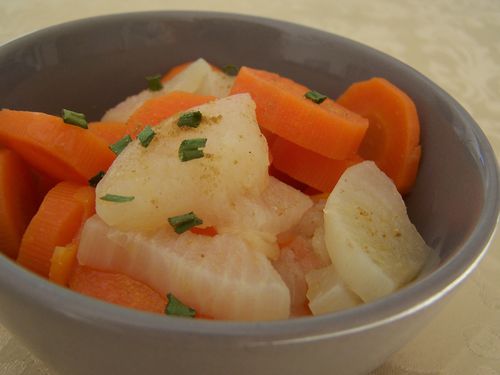 Ingredients :
3 carrots peeled, sliced
2 turnips peeled ans sliced
1/2 onion sliced
1 tablespoon olive oil
1 teaspoon ground cumin
1 teaspoon lemon juice
Salt and pepper to taste
1 cup water
Directions :
In the Pressure cooker, sauté onion in olive oil 2 minutes. Add carrots, turnips, cumin and lemon juice. Stir 1 minute and add salt, pepper and water. Close the pressure cooker and cook for 6 minutes as soon as steam escapes.