Actually I have a lot of squashes in the garage. My freezer is really full, then I try to cook squash in different ways.
We really like squash at home, salted or sweet. That's a good think!
This time, I cook pumpkin in gratin with leeks. Leeks and pumpkins are a good combination because leeks improve the sweetness of the pumpkin.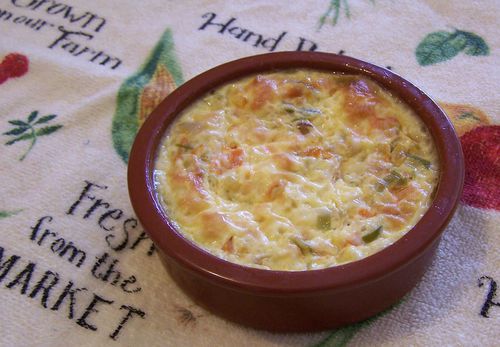 Ingredients :
1 pound leeks sliced
1 pound pumkins peeled and diced
1 onion sliced
1 teaspoon cumin
1 teaspoon paprika
2 cups chicken broth
1 tablespoon olive oil
3 eggs
1 cup cream
1/2 cup swiss cheese
Salt and pepper to taste
Directions :
Preheat ovent to 350°F. Grease 6 ramekins and keep in fridge.
In a frying pan, heat olive oil. Add onion and leeks and cook 2 minutes. Add pumkins and cook 5 minutes more, stirring frequently.
Stir in chicken broth, cumin and paprika. Reduce the heat to medium, cover and cook for 10 minutes. Season to taste with salt and pepper. Reserve until cold.
In a bowl, mix eggs and cream. Pour in leeks/pumpkins mixture and mix carefully. Pour mixture into ramekins, dividing it evenly among them and spread each ramekin with cheese. Bake for 25 minutes.