Rillette is a French recipe usually used for meat ; however, it can also be use for fish. Rillette has to be cooked gently, shredded and potted its juices. It's similar to pâté.
This recipe is very easy to make ,but make sure you remove all of the bones from the fish.I spread my rillette on blinis but it can also be served with a salad (use two tablespoon to form a nice quenelle).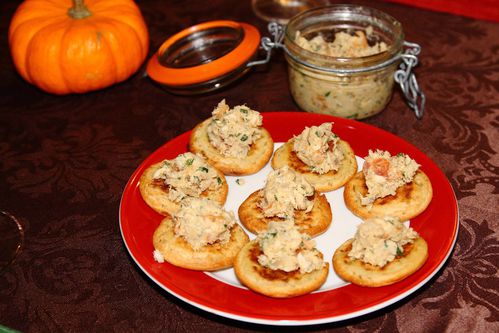 Ingredients :
1 pound mackerel's filets
1 tablespoon olive oil
1 tomato peeled, seede and diced
1 shallot diced
1 tablespoon chive
1 tablespoon parsley 125ml white wine
1 cup heavy cream
1 teaspoon curry
Salt and pepper to taste
Directions :
Steam fillets 10 minutes and cut into pieces. Reserve.
In a medium pan, fry 2 minutes shallot in olive oil, then add white wine and cook until the liquid is almost evaporate.
Add curry, salt and pepper, tomato, fish and cream. Mix well and cook (frequently stirring) for 20 minutes.
Off the heat, add parsley and chives. Add more salt or pepper if necessary. Pour rillettes in a jar and refrigerate for 2 hours.