This week, I received a new cook book. Again, you'll tell me! Yes, but it's a dessert cookbook from Alain Ducasse.
He wrote it with the dieteticien Paule Neyrat. The result : desserts with less sugar and lot of flavor. Hum...that's good for us.
Today, I tried the plum pie and it was amazing.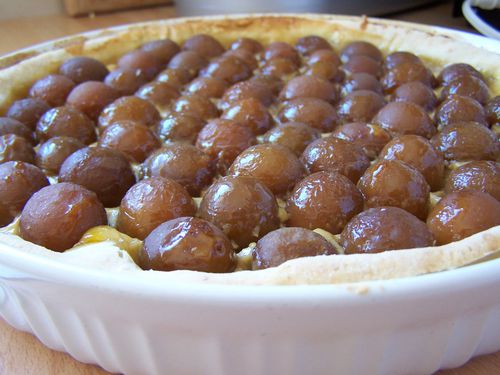 Ingredients :
4 Tbsp butter diced
1 1/3 cup flour
1/3 cup potato starch
1 Tbsp rapadura (whole organic sugar)
2 pinch salt
1 egg
100ml water
21oz mirabelle plums (I used frozen but fresh is better)
2 Tbsp rice syrup
1 egg
3 Tbsp French "creme fraiche" or sour cream
1/4 cup Kirsch
In a bowl or directly on the table, sift together flour and potato starch. Add salt and rapadura, then mix well.
Form a hole in the center and pour in butter. Mix with yours hands until the mixture look like a breadcrumbs.
Then add egg and the water. Knead to form a dough.
Wrap the dough with plastic wrap and refrigerate 30 minutes.
Preheat oven to 350°F.
Roll out the dough on a lightly floured surface to a circle. Place onto your pie plate. Make some holes with a fork and bake for 10 minutes.
In a bowl, mix well rice syrup, sour cream, egg and Kirsch.
Remove the pan form the oven and add plums. Fill with the cream mixture then bake for 30 minutes.I bake mine 10 minutes more because my plums were frozen.
This pie is delicious just a little warm.
Clic here to see this recipe in French