I tried a lot of cookie's recipe. I bought some book, I found some recipes in internet., I asked around me. But the best recipe is in a oatmeal box.
My friend Louise use also this recipe (I tried her cookies several time, they were so good...thanks again!).
I made some this week for my parents in law. They never try oatmeal cookie and they like it a lot.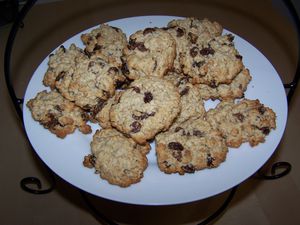 Ingredients :
1/2 pound butter
1 cup brown sugar
1/4 cup granulated sugar
2 eggs
1 tsp vanilla
1 1/2 cups flour
1 tsp baking soda
1 tsp cinnamon
1/4 tsp salt
3 cups oatmeal
1 cup raisins
Directions :
Preheat over to 350°F. In a bowl, beat together butter and sugars. Add eggs and vanilla and beat well. In another bowl, mix flour, baking soda, cinnamon and salt. Add to the other mixture and mix well. Stir in oatmeals and raisins and mix with the wood spoon. Drop by tablespoonfuls onto ungreased cookie sheets. Cookies should be at least 2 inches apart.
Bake for 12 minutes until golden brown. Let cool.