Oatmeal Raisin Blueberry cookies
The first time I tested blueberries Raisins Oatmeal cookies was at the restaurant Homespun Food in Beacon. I used to join my friends for lunch when I went in Beacon. The food was everytime simple and delicious. I spent a lot of good time in this place...
When I saw blueberries cookies, I bought 4 and tested one : so good! I asked for the recipe but I couldn't get.
Anyway, I made my search by myself and tried different recipes, mix them before to make the recipe close to Homespun. Today I used frozen blueberries but in summer use fresh one, it's so delicous!!!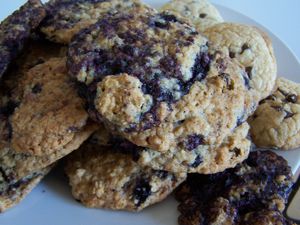 Ingredients for 25 cookies:
11/2 cups flour
1/2 teaspoon baking powder
1/2 teaspoon salt
1/2 teaspoon cinnamon
1/4 teaspoon nutmeg
16 tablespoons unsalted butter melted
1 cup brown sugar
1 cup granulated sugar
2 larges eggs
3 cups old-fashioned rolled oats
1 cup raisins
1 cup blueberries
Directions:
Preheat oven to 325°F and line sheet pan with baking parchment.
In a bowl, mix flour, baking powder, salt, cinnamon, nutmeg and reserve.
With an electic mixer, beat butter and sugars 3 minutes. Add eggs and mix until combine.
With a spatula, stir in flour mixture and oats, mix. Add raisins and blueberries and mix until incorporated.
Roll the dough into balls and lay on the baking sheet.
Bake for 10 minutes, rotating halfway.