Christmas is close and it's time to test some cookies' recipes. I like this part of the year. It's time for chocolates and other "gourmandises"...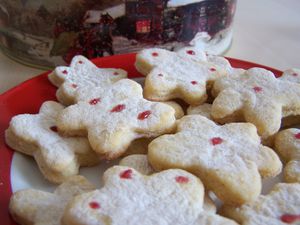 Ingredients :
1/2 cup and 1 tablespoon butter
1 tablespoon honey
1 teaspoon cinnamon
1oz granulated sugar
1 cup 1/3 flour
1 egg
Directions :
Preheat oven to 350°F.
In a bowl, mix well butter and sugar. Add honey and egg, mix. Pour in flour and mix until it forms a ball. Reserve 30 minutes in the fridge.
On a floured work surface, roll the dough and cut out shapes using a cookies cutters. Lay on two parchment baking sheets and bake for 10 minutes. Let cool before decorated the cookies.