Tonight, I cooked some poached salmon in herb broth. Hum it smell so good!!! My family ate the dishes without a comment, because salmon fillet has just few pin bone. Thanks mister salmon!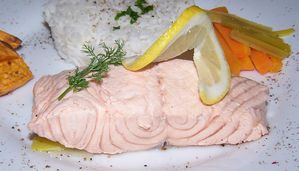 Ingredients :
6 cups water
1 cup dry white wine
4 carrots cut into 2 inches matchsticks
4 leeks cut into 2 inches matchsticks
2 sprigs parsley
1 sprig tarragon
2 garlic cloves
1 lemon halves
4 salmon fillets
1 tablespoon minced dill
Salt and pepper to taste
Directions :
In a large pan, combine water, wine, vegetebles, parsley, tarragon, lemon's juice, lemon halves and 1 teaspoon salt. Cover and simmer for 20 minutes.
Then, season salmon with salt and pepper. Discard lemon from the broth and add garlic and salmon. Cover and cook over medium heat for 8 minutes.
Served fillets with vegetables and stir in dill. Ladle 1 tablespoon of the broth over the fish.