What could we cook when it's cloudy and cold outside. Hum...it's smell the Pot au feu!!!
It's a French beef stew cooks with vegetable and aromatic garnish during a long time. Lot of flavor in this dish.
Let cook it !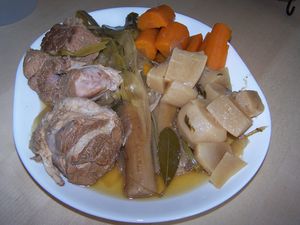 Ingredients :
4 pound beef : 1 pound chunk-eye, 1 pound shrank, 1 pound short ribs , 1 bone marrow
Aromatic garnish : 2 bay leaves, 1 thyme, celery, 1 onion stink with 2 whole cloves, 1 rib celery
4 litres water
4 carrots peeled and diced
4 turnips peeled and diced
3 leeks sliced
2 onions sliced
6 potatoes peeled
salt and pepper to taste
Directions :
To make the aromatic garnish wrap together bay leaves, thyme, 1 rib celery, 1 onion stink with 2 whole cloves and green leeks.
In a large pan, pour in meat except the bone marrow. Cover with water and drain immediatly ( it's to clean the meat to have a broth clear). Pour the meat in the pan with all aromatic garnish in the pan and add 4 litres of water. Cover the pan and cook at least 3 1/2 hours.
1/2 hours before the end, add carrots, turmips, leeks, onions and the bone marrow. Add salt and pepper.
Meanwhile, cook potatoes in salt water during 1/2 hours.
Bon Appetit.