I never cooked red lentils and I really wanted to try since a long time. On Monday, I was in the grocery store and I saw a box of red lentils. I bought it and when I came home I decided to make some cake with them. I mixed lentils with bulgur and veggies. The result was Yummy!!!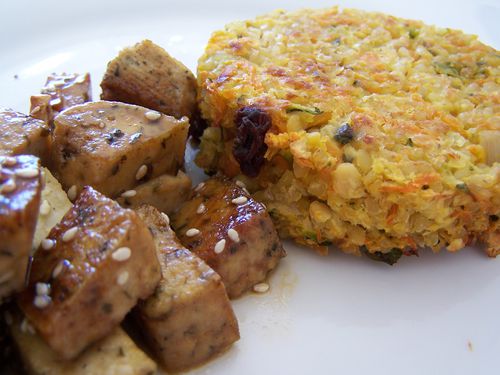 Ingredients :
1/2 cup red lentils cooked
1/2 cup bulgur cooked
2 tablespoon olive oil
1 carrot peeled and grated
1 zucchini grated
1 tablespoon parsley chopped
1 shallot sliced
1 teaspoon ginger ground
1/4 teaspoon cinnamon
1/4 teaspoon cumin
1/4 teaspoon curry
Salt and pepper to taste
Directions:
Preheat oven to 350°F and line oven pan with baking parchment.
In a frying pan, sauté shallot in olive oil over 2 minutes medium-high heat. Stir in carrot and zucchini and cook for 5 minutes over medium-low heat. Then add lentils, bulgur, parsley, salt, pepper and spices and cook for 3 minutes more.
Use a 2 1/4 round cookie cutter to make a cake with 3 tablespoon of mixture. Lay cakes on the oven pan and cook for 25 mintes. Enjoy!!!
Clic here to see the recipe in French