Yesterday, I share a really good moment with my children. It was a intense chocolate moment.
I saw a chocolate recipe on the Pascale's blog. I had all ingredients and I tried it. The result was amazing. There are some Praliné on it (dough with hazelnut and sugar), milk chocolate, almonds, black chocolate. I took one and it was so good I took two more! I'm so glad to find this delicious recipe. My children Alexia and Ennio loved them too.
I think we are definitely a chocolate family!!!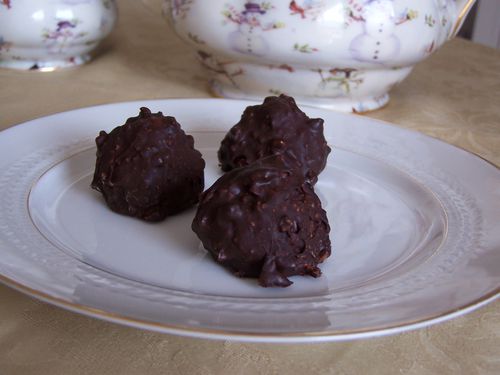 Ingredients:
Inside : 8.8oz praliné
4oz milk chocolate
1.7oz dark chocolate
Outside : 10.5oz black chocolate
1.7oz almond toated and chopped
Directions:
Place a medium cooking pan in a high heat and pour around 1 litre of water. Cut inside's chocolate into small pieces and put in a bowl. Place the bowl into the pan and stir gently to melt. When chocolate is almost melt, remove from heat and keep stirring until it is smooth. Add praliné and mix well.
Pour the mixture in a silicon baking pan, cover with a plastic wrap and refrigerate at least 4 hours.
Then, slice chocolate/praliné mixture into cubes. Reserve in fridge in a plastic box.
Meanwhile, place the medium cooking pan with water in a high heat Cut outside's chocolate into small pieces and put in a bowl. Place the bowl into the pan and stir gently to melt until the chocolate's temperature reach 120°F. Then remove from heat and place the bowl in a pan full of cold water. Mix until temperature reach 63°F. Place the bowl in hot water and mix until temperature reach 68°F. (it's a little long to explain but quick to make). Remove the bowl from the pan and add almonds and mix well.
Dip chocolate cubes (2 or 3 in the same time) in it and remove gently with a fork. Reserve on a baking paper. Let dry and refrigerate in plastic box. Just think to remove 10 minutes from the fridge before tasting!

Praliné ingredients :
14oz hazelnuts toated, peeled
1 cup1/4 sugar
2oz and 2 teaspoon water
Directions:
In a pan, boil water and sugar until temperature reach 263°F. Remove from the heat and add hazelnuts. Mix well with a wooden spoon. Then cook until hazelnuts are well caramelize. Spread in a baking paper and let completly cool.
Break praliné with a large knife into small pieces and grind in a food processor stopping frequently to mix the unground pieces. First you will have powder which will become a paste. This should take 15 minutes.