In France, most of the place to park your car are not free, and you need to have some change to get a ticket in the "parcmètre".
On Wednesday, I had an appointment in the center of Montpellier. I parked my car on a street near my appointment and of course the parking was not free. I just had 50 cts in change, which was not enough for the time I needed! I asked someone for some change. She showed me the direction of a backery...0,8 miles! When I arrived in the bakery a little winded (I was already late for 15 minutes!), I saw this adorable brioche in the forme of small man. I bought one and I get my change.
At home, I searched some information about this small man and I learned it name is Mannala and it come from Alsace (Alsace is located on France's eastern border).
According to the tradition, Mannalas are distributed to the children the December 6 for the Saint Nicolas. I made some with my favorite brioche recipe and I took two because I was really nice this year!!!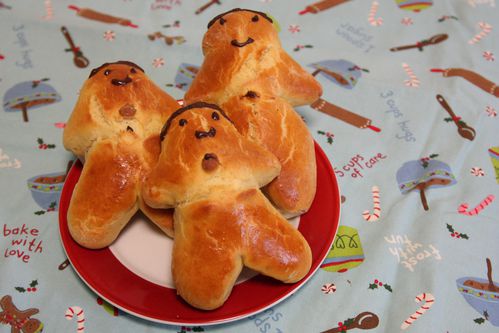 Ingredients :
For the leaven : 1/2 cup flour
2 teaspoon instant yeast
1/2 cup whole milk, lukewarm (100°F)
For the dough : 5 eggs beaten
3 cups flour
2 tablespoon granulated sugar
1 teaspoon salt
1 cup unsalted butter at room temperature, cut in cubes
1 eggs
Directions :
in the bowl of a mixer, mix flour and yeast, then add milk until flour is hydrated. Cover with plactic wrap and ferment 40 minutes.
Add 5 eggs and beat on medium speed until smooth. Add flour, sugar and salt and mix for 3 minutes. Stop the mixer and let rest for 5 minutes. Then mix in medium speed and stir in butter one-quater at the time. Continue mixing for 6 more minutes.
Line a sheet pan whith baking parchment and tranfer the dough shaped into a large, thick rectangle. Cover and refrigerate overnight.
The next day, divide dough into 12 balls of 2.6oz each, and shape them into small men. Use scissors to make legs and arms. Cover with plastic wrap and let rise for 30 minutes. Preheat oven to 400°F.
Brush small men with egg beaten and bake for 20 minutes at 350°F. Then let cool 20 minutes and decorate small men with chocolate melted in microwaves 2x20 secondes.