This is a dishe we like a lot at home. This recipe change according to the seasons!
Tonight, I just used the veggies I had in my fridge.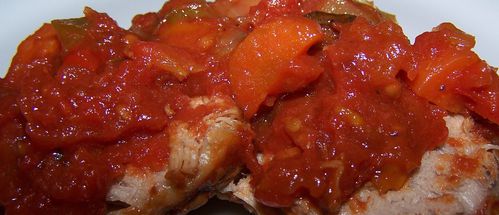 Ingredients :
2 pound pork tenderloin
1 onion peeled and sliced
1 tablespoon olive oil
2 cloves garlic sliced
2 carrots peeled and sliced
1/2 green pepper sliced
1/2 red pepper sliced
1 cup white wine
1 cup water
2 sprigs fresh thym
2 bay leaves
1 can tomatoes diced
Salt and pepper to taste
Directions :
Preheat oven to 325°F.
In a Dutch oven, sauté tenderloin with olive oil over medium-high heat 2 minutes each side. Reserve in a plat.
In the same pan, sauté onion 3 minutes then add carotts, garlic, peppers, thym, bay and cook for 5 minutes.
Stir in wine, then tomatoes, water and reduce over medium heat. Add salt and pepper and the pork. Cover and bake for at least 1 hours.