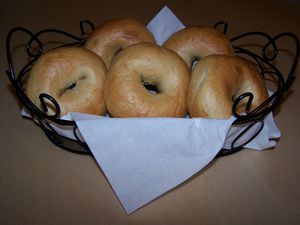 Hi girls,
Do you remember when I try to make bagels. It was not so bad. But this time I really make some progress.
They are beautiful and good. I did a great job.
You would be proud of me.
Ingredients to make 12 larges
Sponge : 1 tsp instant yeast, 4 cup bread flour, 2 1/2 cups water
Dough : 1/2 tsp instant yeast, 3 3/4 bread flour, 2 3/4 salt, 1 tablespoon brown sugar
Finish : 1 tbsp baking soda
Directions
1 Make the sponge : mix flour with yeast and then add the water. Whisk well until it look like a pancake dough. Cover the bowl and leave at room temperature for 2 hours.
2 Make the dough : after the resting time add the additionnal yeast and stir. Then add flour, salt and sugar. Mix well until it forms a ball. Tranfer the dough to the counter and knead at least 10 minutes. Then divide the dough into 12 rolls.Cover and rest for 20 minutes.
3 Line 2 sheet pan with baking parshment. Shape the bagels and place them on the pan. Mist them with spray oil, cover and let rest for 20 minutes more. Then place the pans in the refrigerator all the night.
4 The day after, preheat the oven at 500 °F. Bring a large pot of water to a boil and add baking soda. Drop the bagels in the water ( 2 by 2). Boil 1 minute each side and return to the pans.
5 Bake for 5 minutes, rotate the pans and bake 5 minutes more at 450°F.
6 Let cool at least 15 minutes.
Bon appetit. Love Danièle