Happy New Year 2011!!! I wish you joy, love and lot of goddies for this new year!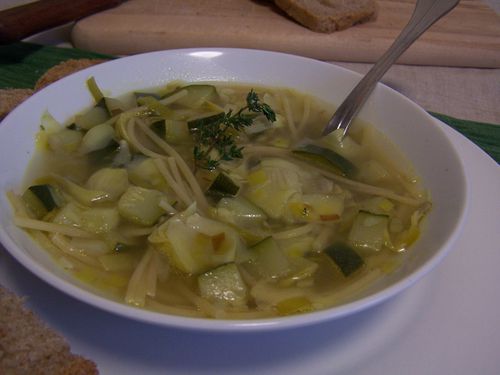 Today, I made a delicious soup with a mediterranean touch.
Ingredients for 4 :
1 tablespoon olive oil
1 leek chopped
2 garlic cloves minced
2 zucchini sliced
1 can quartered artickote hearts drained
5 cups chicken broth
3/4 cup spaghetti cut in 3
Fresh thyme
Parmesan cheese grated
Salt and pepper to taste
Directions :
In a large pan, sauté leek in oil 5 minutes. Add garlic, artickotes, zucchini and cook about 10 minutes. Add chicken broth, cover and cook in low heat about 15 minutes more. Add salt and pepper if needed. Then increase heat to medium, add pasta and cook for 5 minutes.
Ladle the soup into plates (or bowls) and top with thyme and parmesan.
Bon appetit!