Eggplant is one of our favorite vegetable. It the Mediterranean cuisine we love so much.
Usually I cook eggplant in Ratatouille or in Caviar but its oblong shape could be use to make eggplant suffed like this recipe.
I just add some roast pepper pesto for more flavor! I found the pesto's recipe in Kevin's blog and it's delicious! I mix this pesto with pasta or rice. I tried once on the top of hot goat cheese.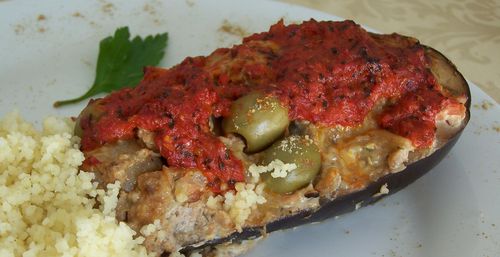 Ingredients:
2 eggplants
2 tomatoes peeled, seeded and diced
2 shallots peeled and chopped
1 egg beat
1 can of tuna
10 green olives without pitted
1 teaspoon cumin
Olive oil
4 teaspoon roasted pepper pesto
Salt and pepper to taste
Directions:
Preheat the over to 375°C.
Cut eggplants in half lenthwise and scoup out the center. Diced scooped-out center.
In a frying pan, cook shallots and eggplants's diced with 1 tablespoon olive oil for 15 minutes.Then add tomatoes, tuna mashed with a fork, olives, cumin, salt and pepper. Cook 5 minutes and let's cool for 10 minutes.
Add egg a and mix well. Spread inside of half eggplant with olive oil and pour them in a baking pan. Stuff half eggplant with the mixture and add 1 tablespoon of pesto on the top. Bake for 40 minutes.
Ingredients Roasted pepper pesto:
2 red pepper grilled
2 tablespoon fresh basil
2 cloved of garlic
2 tablespoons parmesan grated
3 tablespoons olive oil
2 teaspoons balsamic vinegar
salt and pepper to taste

Directions :
Place everything into a food processor and puree.
Clic here for the recipe in French.